Originally published on February 10, 2021 by Alexis Soloski in The New York Times 
Hiring couples to act together allows us to see two people in one virtual space. For the couples themselves, though, it can feel like "there's no escape."
Last fall, the actor Jason O'Connell agreed to star in a new production of "Talley's Folly," Lanford Wilson's wistful two-hander, for Syracuse Stage. The other hand? His wife, Kate Hamill. While they would film the piece in an empty auditorium, they would spend much of their rehearsal time at home, on Zoom. So much for leaving your role at the stage door.
"There's no escape," O'Connell said, mostly joking. "There's no time apart, there's no breather. There's no one to complain to about my co-star."
Since March, when theater began to pop up online, savvy producers have looked for Zoom box workarounds and ways of generating the intimacy that only actors sharing the same airspace can provide. A Covid-19 friendly solution: Hire cohabiting couples to perform opposite each another — on sofas, in bedrooms and on the occasional closed stage — with no grids or time lags intervening.
That explains how viewers saw two Apple family siblings — Maryann Plunkett's Barbara and Jay O. Sanders's Richard — quarantining together in the latest Richard Nelson trilogy, with their West Village apartment subbing for Barbara's Rhinebeck house. Cohabiting actors also enabled a surprising scene in Sarah Gancher's "Russian Troll Farm." Having spent the play on separate screens, the disinformation workers Greg Keller and Danielle Slavick suddenly leapt into the same box and then into bed.
Some of these couples have acted together for decades; others have almost never shared a marquee. None of them could have predicted that they would be turning their homes into theaters and reassuring the neighbors that the bloodcurdling shrieks are just a work thing.
The New York Times spoke to six theater couples about acting together while living together. These are excerpts from the conversations.
Kate Hamill and Jason O'Connell
Together eight years
How they met At the Hudson Valley Shakespeare Festival, through a mutual friend. They married in January 2020 and had planned to honeymoon last summer.
Pandemic project "Talley's Folly"
Have you worked together much?
O'CONNELL We worked together on Kate's first play, "Sense and Sensibility." We did "Pride and Prejudice." Then I wrote an adaptation of "Cyrano" that I directed her in.
HAMILL We know lots of people who have a professional/personal divide, but we really don't.
How has working from home been?
HAMILL We're both workaholics. We've had to adjust to a slightly different pace of life. Like, "Do we have any hobbies?" After we got done with our first Zoom rehearsal of "Talley's Folly," we turned off the camera and we both started crying because we had missed that part of our lives.
O'CONNELL It was very, very special, but also bittersweet.
HAMILL In the pandemic, as a couple, you either come out of it, like, "Wow, this is really strong and great," or "Oh no. I'm glad we like each other."
Greg Keller and Danielle Slavick
Together 14 years
How they met At the National Theater Conservatory in Denver, Colo. "We had a talk in the library once about death," Keller said.
Pandemic project "Russian Troll Farm"
Have you worked together much?
SLAVICK We've done a bunch of workshops and readings and stuff, but only one other production together, Sheila Callaghan's "That Pretty Pretty; or, The Rape Play."
KELLER Nobody's wanted to bring the passion that is our relationship onto the stage.
How has working from home been?
SLAVICK Exciting. But also daunting. I was still breastfeeding during rehearsals and I was also pregnant, so I was very nauseous. Having people be part of your home life was just kind of vulnerable. But you're, like, my favorite actor. So I just liked the opportunity to talk with you and listen to you in that medium.
KELLER I'm blushing over here.
SLAVICK There was so much equipment! It took over our apartment.
KELLER A new couple with a kid moved in. They would hear us screaming at each other, her having fake orgasms.
SLAVICK I actually stopped them in the hall and let them know that they don't need to call the police.
Crystal Dickinson and Brandon J. Dirden
Together 21 years
How they met In graduate school at the University of Illinois. "I will never forget seeing her for the first time," Dirden said. "This gale force coming straight at me."
Pandemic projects "New Math," as part of the 24 Hour Plays Viral Monologues; "Lessons in Survival"
Have you worked together much?
DICKINSON The first show we did was "Angels in America." Brandon was Belize and I was the angel.
DIRDEN We work together maybe every other year. It actually helps the relationship. We can't be too mean to each other, because we're probably going to have to work together pretty soon.
How has working from home been?
DICKINSON The 24 Hour Plays reached out to us. I told Brandon, "We're doing it. You're going to do one and I'm going to do one. Because we've got to do some art." So we did and I told them, "That was great. Brandon and I should do one together.'" Two weeks later, they were like, "We want to take you up on that." And I was like, "How are we going to home-school?" We told our playwright, "You have to incorporate our kid." Which turned out to be fun. Though we did almost kill each other for about five seconds.
DIRDEN Chase [their son] was the best part of the process. He took direction very well.
Michael Urie and Ryan Spahn
Together 12 years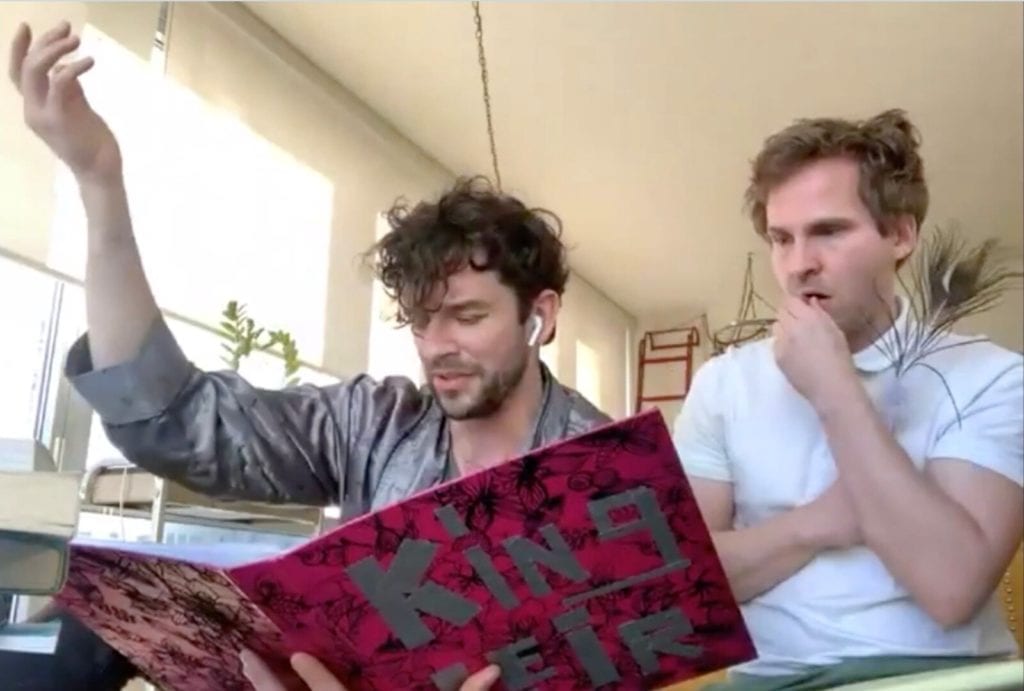 How they met Friends set them up. "We had plans to see 'Doubt,'" Urie said. "Very romantic."
Pandemic projects "Nora Highland," "Buyer & Cellar," "Frankie and Will"
Have you worked together much?
URIE Most recently, "Hamlet," which we did in Washington, D.C. We've also worked together on some movie projects. Ryan and Halley Feiffer wrote "He's Way More Famous Than You," which I directed.
SPAHN That was when we learned how to collaborate. We turned our apartment into the production office.
How has working from home been?
SPAHN Jeremy Wein does Play-PerView. He reached out. I had never even heard of Zoom. I had this two-hander, "Nora Highland." Michael and Tessa Thompson did it live online.
URIE There was no audience, but it felt something like theater, because it was live.
SPAHN We would talk about the hunt for that feeling of opening-night jitters.
URIE "Buyer & Cellar," which we did in our living room, had exactly that. It was a big old comedy put together right before you. Ryan was the director of photography.
SPAHN After that one, we did a short play Talene Monahon wrote, "Frankie and Will." Our dog was in it. And we have a cat, so we had to animal wrangle. It gave us something to put our manic, terrified, and laser-focused energy into.
Jennifer Byrne and Timothy C. Goodwin
Together four years
How they met During a production of "Shear Madness" in Fort Myers, Fla. "We had a start-over first date in New York City," Byrne said.
Pandemic project "Singles in Agriculture"
Have you worked together much?
BYRNE We never work together. I'm in musical theater and Tim is into plays and film and TV. Our paths for auditions rarely cross.
How has working from home been?
BYRNE Ken Kaissar and Amy Kaissar, the artistic directors of Bristol Riverside Theater, were looking for acting couples quarantining together. They hit us up by email and Ken found "Singles in Agriculture." We did a Zoom cold read and it was our rhythm, it was our energy. It felt right.
GOODWIN Usually you can leave work at work. But the space that we sleep in is also our rehearsal space and our performance space. We have a nice lighting set up. But as soon as the rehearsal is over we tear it all down.
BYRNE We literally open the blinds, we open the windows and we shut the door so that it gets super cold in the bedroom. Almost like starting over.
Maryann Plunkett and Jay O. Sanders
Together 32 years
How they met On the set of "A Man Called Hawk," a spinoff of "Spenser: For Hire." "Our first kiss was on film," Sanders said.
Pandemic project The Apple Family Plays' pandemic trilogy
Have you worked together much?
SANDERS Countless reading and workshops. And some small film things.
PLUNKETT Because of the Rhinebeck panorama [Richard Nelson's sequence of Rhinebeck-set plays], it feels like we're working together all the time. We like to work together.
How has working from home been?
PLUNKETT With the Zoom plays, we're sitting side by side. It's the utmost in trust, and playfulness, knowing that I'm looking into Jay's eyes, but I'm also looking into the character's eyes. Shoulder to shoulder, captured in a little tiny box, there's no room for faking it.
SANDERS I used to dream about this, when I was a young actor, finding someone who could be a partner, who could be at the same level. It's a very rare relationship that we're fortunate to have. We appreciate it every day.
---
A version of this article appears in print on Feb. 14, 2021, Section AR, Page 8 of the New York edition with the headline: Couples Who Become Co-Stars at Home.